February Updates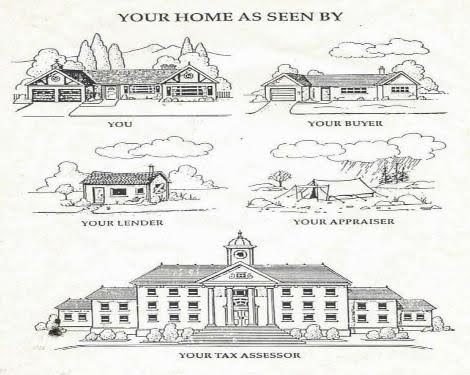 It is property tax time again; let us know if you want help paying your property taxes for a $65 fee.
What's Happening
I hired Alice a month ago and she is absolutely amazing! She has spruced up the website including a page for rentals, so let us know if you want us to help promote your place for rentals. She has also added an Exclusive tag for our exclusive listings, has taken some new photos of properties, fixed our grammar, and improved our ranking on Google… basically put a nice spit shine on all of us at Discover to make us shiny and bright!
Plus we can now add a video to your listing!!! Check out this listing with a video for an example of how we can add a video at the bottom of the description.
With Alice I'm now ready to take on the soon to come MLS system, which will require exclusive listings for all properties. This will require a huge amount of work to list all of your properties on the system, but we're ready. We are working hard to earn your vote of confidence to list exclusively with us! For more information on the MLS system, check out this link.
On February 8th the United Kingdom lowered their travel advisory! Find out more here.
Last month I signed up for health insurance at the new Military Hospital for $90 per month. This includes health insurance for Ricardo, myself, and his children. They checked my thyroid, adjusted my medicine level, and determined my gallbladder needs to come out based on some blood work and ultrasound (all covered for the $90 a month). I'm taking some medicine and have some follow up appointments before they will schedule the surgery but I've been told it is simple and I'll only be there 1 day! So far, I'm very impressed with their services especially for the money. It isn't as sleek or as fast as Vivian Pellas, but they are efficient and the doctors have been on time for all of the appointments. Let me know if you want information about the insurance plan.
Rentals! We now have a rentals page on our website!!! 
Looking for a rental for your next vacation or looking for someone to promote your property for rent? Check out our brand new rentals page on our website!
Property Insurance
Many people do not have property insurance in Nicaragua however, I highly recommend it and now it is easier to get. Please let us know if you want help getting property insurance for your house.
Wind Protection!
Do you have a wind problem at your house?  Check out this creative windscreen installed at a house in Cala Azul to protect their pool area from the strong winds this time of year.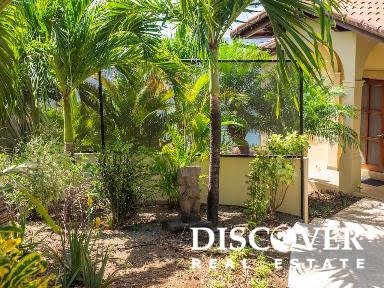 Client Feedback
Here is a nice email I received from a client:
"Dear Natalie,

I want to thank you for your objective newsletters. They probably made the difference in whether or not I would return this year. I am most of the way through my 17th trip here and have felt completely safe the entire time. A friend joined me for his first trip and he has said the same thing. After a brief stay in Managua, we went to Laguna Apoyo, Isle de Ometepe, Popoyo, and now San Juan del Sur.

At every town, the people have been their usual welcoming selves, the foods been great (I call it "the land of organic foods without trying" as it's generally local), the prices more like what I experienced in 2005, and like I said before, totally safe. Tomorrow we go to Granada and I expect more of the same.

The only disappointment I have is the lack of foreign tourists. The people here are so wonderful, but they've always been poor. Now with fewer tourists their hardships have increased. I have friends here who are really struggling. I help them, but their problems are not alone. The sooner the foreign tourists return the better it will be for the people of this lovely country. Please keep sending out your positive messages about Nicaragua.

Sincerely,

Michael Roche"
More people are getting their residency!
Tiffer & Asociados reported on Facebook January 30, 2019 that another couple successfully completed their residency!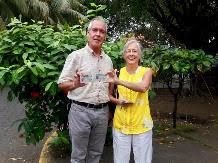 Entry Requirements for Nicaragua
A Country-By-Country Guide To The Central America Entry Requirements For Tourists
As a CA-4 member, entry to Nicaragua means entry to Honduras, El Salvador, and Guatemala. You will get up 90 days upon entry which applies to all four countries. To stay up to another 90 days you must leave and reenter. Costa Rica is the most popular place to do this as it isn't a CA-4 member. You can also request a onetime 30-day extension at the immigration office in Managua. If you arrive by air, you need to pay a $10 entry fee and if you arrive by land, that fee is $12. Your passport needs to be valid for at least six months. Nicaragua now requests visitors who are "not tourists" (volunteer groups, etc) to pre-register their visit online before arriving. 
Visit the full article for more information. 
The Wonderful People of Nicaragua
January 25 at 2:38 PM on Facebook

Just another reminder of how wonderful the people of San Juan Del Sur are. After dropping my wallet on a trip to the grocery store, I was flooded with messages informing me that it was found. It's back with me now; all cash and cards too. I am so grateful for this town. A special thank you to the mother of Nazareth Martinez and her family at Beach House.
So Cheap!!!
Two movie tickets for Bohemian Rhapsody, popcorn, and a drink only 385 cordoba or $11.85 USD – life is still a bargain here!!!
Power of Attorney
Want to sell your property faster?  GET A POA NOW!!! – Because of the new regulation, I have several sales taking a lot longer than they should to close! Now when you have a buyer for your property, you need to issue a Power of Attorney for the buyer's attorney to do the title search on your property. I HIGHLY SUGGEST issuing a POA to your attorney or assigned person now! Sergio Corrales at Corrales & Associates will be happy to help you complete this process if you are in or out of Nicaragua.  [email protected]
Yellow Fever Vaccinations!
If you are traveling from any of these countries, and you are traveling to Nicaragua, you must have a certificate proving you have been vaccinated against Yellow Fever or you will be denied entry into Nicaragua!!!
Argentina, Bolivia, Brasil, Colombia, Ecuador, French Guyana, Panamá, Venezuela, Paraguay and Perú. The restriction also applies to all African countries, except the Democratic Republic of the Congo, Tanzania, Sao Tome, Principe, and Somalia.
The certificate must be by the registered health authority of the country of origin and must be valid for at least 11 days prior to entering Nicaragua.  For more information, click here.
For articles and important information about Nicaragua, visit our Facebook page!
Some of the articles this month are:
Two Cruise Ships in One Day
Horse Boarding and Available Land at Big Sky Ranch
Testimonial for Nicaragua
Japanese Dining in Granada
Properties for Rent or Sale
Discounted Airline Tickets
New Mall in Tola
Tax Changes
Physical Therapy in SJDS
Avocado Dinner 
Featured Listings!
There are about 300 listings on our website, here are just a few of the new or reduced ones! Click on the title or photo to view the full listing.
Type reduced in the key word box and quickly find all the bargains on our website.
In addition, type in bargain as the key word too since some properties were bargain priced from the beginning!
---
EXCLUSIVE
The Cala Azul residential community is located just north of San Juan del Sur, Nicaragua. Wrapping around a small, very private, horseshoe shaped bay, this development has various access points to the Pacific Ocean. The development currently has many finished houses, and residential only building lots are for sale. Future phases include a condominium project, luxury townhouses, and a location for a boutique hotel and restaurant, all with a focus on nature, relaxation, and high quality.  
Lots priced $175,000 to $425,000
---
EXCLUSIVE
Studio Rio Jaio is a 1-bedroom studio apartment located in the Pelican Eyes Resort in San Juan del Sur, Nicaragua. Although it is a studio, it is surprisingly spacious, with a grand bathroom and lots of storage space.  Sit back and enjoy incredible ocean and valley views of the San Juan del Sur area from your patio. As a resident of Pelican Eyes, you have access to all the amenities the resort has to offer, including 3 pools!
$95,000 Reduced from $110,000
---
EXCLUSIVE
Only $928.67 per sq. meter or $86.25 per sq. foot for the stunning Casa Cooper Villa in Pelican Eyes development, located in San Juan del Sur.  Literally, view paradise FROM paradise.  You could not build this massive house for this asking price and it consists of 2 individual units, containing a total of 4 bedrooms, 2 futons that convert into queen size beds, 2 living areas, 7 bathrooms, and  2 private swimming pools. This means it has the potential to be operated as a large single family unit, live in one unit and rent the other, or as a rental property comprising 2 separate but connected villas.  
$690,000 Reduced from $1,200,000
---
EXCLUSIVE
Bayview Terraces is a solidly built (concrete structure) completely renovated 2 level townhome, located in the quiet La Talanguera area. This 2-bedroom townhome was completely renovated and updated recently, and is being sold fully furnished. The well-equipped kitchen features new appliances, custom built wood cabinets, a custom wooden breakfast counter, and a fan assisted exhaust from the stove to the exterior. The living area has new furniture throughout, as well as a custom-built wooden TV console. There is also a guest bathroom on the first floor.  Upstairs you'll find 2 large bedrooms with a shared balcony, where you can enjoy incredible views of the Pacific Ocean. There are also 2 full bathrooms on the second floor. The entire townhome features custom built California wooden blinds on all windows, 3 new air conditioners, as well as a solid new roof.
$175,000 Reduced from $245,000
---
EXCLUSIVE
This modern and fully equipped beachfront townhome is located directly on Nicaragua's pearl of a beach Playa el Coco. Playa Coco Townhomes offers the perfect place to relax with family and friends!  The 4 bedrooms and 3.5 bathrooms are  spread over three floors with the luxurious living room, dining room, contemporary kitchen and 1/2 bathroom on the first floor.  On the second floor, you find the master bedroom with private en-suite bathroom and private terrace with a majestic view of Playa el Coco and the luxurious grounds. Additionally there are two bedrooms with a shared bathroom and terraces for each bedroom.  The bedroom on the third floor opens up to the private roof terrace that offers breathtaking views of the beach and the surrounding tropical forests with an outdoor bar.
$360,000 Reduced from $399,000
---
EXCLUSIVE
This beautiful 1 bedroom garden level studio is for sale in Talanguera Townhomes, located steps from the beach, and just a 15 minute walk to the center of San Juan del Sur. Enjoy incredible ocean views of the bay of San Juan del Sur from the covered porch and sun terrace.  The studio features a custom kitchenette, furniture set, and clothes storage. Ceiling fans throughout circulate the cool ocean breeze that enters through windows at both ends of the dwelling. As a resident of Talanguera Townhomes, enjoy access to amenities including the community green, sun terrace, gardens, and a pool.
$104,900 Reduced from $130,000
---
El Jardin hotel is a perfectly situated boutique hotel just far enough from San Juan del Sur to escape the noise but close enough to make everything convenient for you and your guests.  With 11 rooms and 2 apartments, the bargain hotel is small enough to manage easily yet large enough for a sizable volume of business.  The hotel also has a restaurant with a professional kitchen where guests can enjoy an ocean view dining experience.  Sunsets from here are amazing.
$750,000 reduced from $990,000
---
EXCLUSIVE
This beautiful lot is available in the Los Miradores development of San Juan del Sur. Enjoy ocean views from this 1,893 m² parcel, almost ½ an acre!  Featuring virtually untouched land, you have the ability to customize the area to make your dream home a reality!
$65,000 Reduced from $99,000
---
The sale of Villa Loma del Socorro Luxury Boutique Bed and Breakfast offers an incredible turn key business opportunity or enjoy the houses all for one large family. This award winning B&B is the number one ranked hotel in Nicaragua on Booking.com and Expedia, and earned a steady income, even during the past low season!  The cool and breezy 8 acre hilltop estate is located on the edge of lush jungle at the end of a paved road just twelve minutes south of San Juan del Sur. Nestled among graceful trees, the extensively landscaped, sunset-facing property overlooks the verdant green San Juan valley, the spectacular beaches of Playas Hermosa and Escamequita and over a hundred miles of the famous Nicaraguan "Emerald Coastline".
$1,200,000
---
EXCLUSIVE
Villa Mare is a beautiful 5-bedroom house for sale in the Pacific Marlin development, in San Juan del Sur. The first floor is wheelchair accessible. Built in 2018, the entire house has an elegant modern feel.  The main bedroom is located on the first floor. It has a king size bed, private garden, walk-in closet, extra closet, two washbasins, hot shower, toilet, internet and a TV. The living room is decorated in a casual elegant style. It has a bar, PVC sliding doors and an amazing view to the ocean. The modern and spacious kitchen is fully equipped, and includes an island with a bench seat for 8 people, plus a wooden dining table for an additional 8 seats. A covered ramp makes the separate area designated for the dining table and kitchen wheelchair accessible. There is also a half bathroom for visitors.
$950,000 Reduced from $1,300,000
---
Two-bedroom townhouse for sale in the Las Escadas development, just a 10 minute walk from the center of San Juan del Sur.  The first floor of this modern townhouse has the dining room and kitchen, complete with a breakfast bar and stainless appliances. There is also a living area and a private patio.  On the second level you will find the master bedroom with an ensuite dual sink bathroom. The second bedroom has 2 bunk beds. There is also a living area as well as a smaller bathroom. Another private patio is accessible from the second floor.
$165,000 Reduced from $199,000
---
Lot 62, located in the Paradise Bay development of San Juan del Sur, features breathtaking views of the Pacific Ocean, all the way to the mountains of Costa Rica. This 1,018 m² lot is the perfect place to build your dream home!
$80,000 Reduced from $159,000
---
EXCLUSIVE 
Las Escaleras Lot #2 is a huge, nearly 2 acre, hilltop lot. Located just 3 minutes outside of San Juan del Sur, this lot is in a quiet rural area. The hilltop plateau of 7,559.73 m², or 1.07 manzanas, is one of the few places left to build with such amazing views. From here, you will enjoy a 200-degree view of the surrounding valley and the San Juan Del Sur bay. Just near the driveway at the top of the plateau, there is a picturesque iconic Jicaro tree, distinctly shaped by the ever-blowing off-shore wind.
$110,000 reduced from $200,000
---
This fabulous second floor condo with 2 bedrooms and 2 bathrooms is located right across the street from the beach in the middle of the bay with amazing views in the El Torreon 4 story building. The well-equipped kitchen has ample working space and views of the bay from the kitchen sink. The kitchen opens up to a comfortable living area. The open floor plan makes this a great place for entertaining. Two outdoor patios are located on both sides of the central dining area. You'll catch amazing sunsets over the bay from your patios.
$195,000 Reduced from $225,000
---
This 2,189 m² lot with beautiful ocean views is available in the Paradise Bay development in San Juan del Sur. The neighbors to the front and back of the lot have already built houses, so you never have to worry about the view from this lot being obstructed by future buildings!
$37,000 Reduced from $90,000
---
You'll love this charming house called Casa Serenidad. This 2 bedroom, 2.5 bathroom home (the master bathroom has a bathtub) with  space to add additional bedrooms or rental casitas will give you 1,700 sq ft of generous space to move about.  Situated in a friendly community called El Camino del Sol  which has great community spaces including a 25 meter long pool perfect for doing laps and a yoga platform overlooking the pool. You will love the peaceful community connected to nature including walking trails throughout the property and the amazing valley views and sunsets.  Casa Serenidad is ideally situated with the lower part of the lot connecting to the pool area and it has an established Airbnb page you can take over.
$95,000 reduced from $275,000 
---
Located less than 200 meters from the sand with 184 feet of frontage along the main public access road to Playa Marsella, this lot is in a prime location for a commercial opportunity close to the beach! Take advantage of the less than 2-minute walk to the beach by building apartments for short term rentals, or build a bar, restaurant or store to cater to all of the tourist and locals who drive and walk along this main public road to access the beach. With 1,547 m²/16,651 ft² of relatively flat space you could also do both with a mix-use commercial-residential concept!
$79,000 Reduced from $130,000
---
If you don't see what you are looking for on our website, please email us!
We have many "unofficial or unadvertised" listings
Cheers from sunny San Juan del Sur!