About Us
---
Who We Are in Nicaragua Real Estate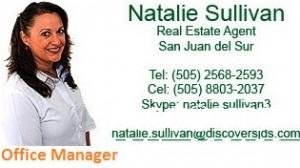 USA Phone Number 717-287-9960  Discover Real Estate is Nicaragua's first online real estate company with the largest, and most accurate online database. Since 2000, our team has been dedicated to continuously updating our database and posting our properties across a variety of media. This brings the buyer the most accurate property information available. We are the leading company in Nicaragua Real Estate.
Whether buying or selling, our goal is to find each party the best opportunity possible. We charge a flat 5% commission – the lowest commission structure on the market. Why? Because we're in it for the long haul, and value your loyalty more than any one sale.
Discover Real Estate is Nicaraguan founded and owned, and our stakes (and future) lie here. This means we value your investments as much as our own – and when we recommend Nicaraguan real estate, we mean it. Residential and world class corporate real estate are just a few of our investments. We're looking to grow together with our employees, our clients and the small country we call home: Nicaragua.
Take some time to get to know us and get to know what we have to offer. We're looking forward to working with you and we're sure that we can help you find exactly what you're looking for here.
We now have new a USA phone number 717-287-9960