This 1 bedroom 1 bath condo is in the Surf Ranch Hotel & Resort, only 3 kilometers south of San Juan del Sur. The Surf Ranch is Nicaragua's first and only action sports resort featuring Nicaragua's largest skateboard park, jungle paintball course, airbag drop from a tower, rock climbing wall, world class restaurant & bar, the Palm Island pool & swim up bar, poolside cabanas, luxury villas, and penthouse condos. Only $75 per month HOA fees. You have full access to all sports, pool, restaurant, and amenities, but you must pay for any activities such as paintball that normally requires a fee. The Surf Ranch offers many extreme sports and activities such as surfing, rock climbing, skateboarding, yoga, paintball, kite boarding and more. Whether you are looking for an adventure or to just simply get away and relax, the Surf Ranch has it all.
This is a Deluxe Condo #3 with two queen sized beds on the first floor of the building beside the gated parking area.  Super easy access to carry a surf board or other items from the parking area to the condo and it includes a private balcony overlooking the skateboard park.
San Juan del Sur is a municipality and coastal town on the Pacific ocean in the Rivas department in southwest Nicaragua. It is located 140 kilometres, south of  Managua. San Juan del Sur is popular among surfers and is a vacation spot for many Nicaraguan families and foreign tourists. San Juan del Sur is a pleasant place to vacation with local Nicaraguans mixing it up with tourists, some of whom now call the area their home. Travellers are coming to San Juan del Sur from all over the globe including Europeans and Americans . It is possible for cruise ships that have missed scheduled port call to dock and offload in the area. This influx of tourism feeds many of the intrinsic tourist dependent businesses in San Juan. This includes in the case of those visiting off of a cruise ship the plentiful boutiques and restaurants in San Juan del Sur.
Features
Sub Properties
$394,000 - House
The Panoramic views from Escaleras Home is in the perfect setting – High on the hills east of San Juan…
More Details
Agent Natalie Sullivan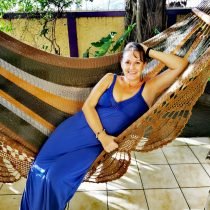 "I love my life" is what you frequently hear me say!  I absolutely love living in San Juan del Sur…
Know More
Contact