For Sale
$175,000 to $425,000 - Land
The Cala Azul residential community is located just north of San Juan del Sur, Nicaragua and just north of the proposed marina on Nacascolo Bay. Wrapping around a small, very private, horse-shoe shaped bay, this development has various access points to the Pacific Ocean including one to a sandy beach. The development currently has many finished houses, and residential only building lots are for sale. Future phases include a condo project, luxury townhouses, and a location for a boutique hotel and restaurant, all with a focus on nature, relaxation, and high quality.
Walking Tour of Cala Azul including the new paved trail and waterfall stream:
With a grand gated entrance, all paved roads, nature trails, common use areas,  and a community center this is the perfect place for a vacation home or permanent residence. All the infrastructure, including access to fiber optic internet, all underground utilities, fabulous landscaping, and a connection to city water makes building your dream house easier and more enjoyable.
The vision for Cala Azul is to create a place where luxury and nature meet, with the community being developed in a respectful way that preserves the sanctuary of plants and wildlife for all to enjoy. Once part of a large nature reserve, Cala Azul has done much more than keep over 80% of the property natural. Cala Azul's site botanist has reintroduced more than 750 increasingly rare native trees and plants onto the property, creating a rich tapestry of tropical biodiversity.
Ariel views of Cala Azul:
Now is the time to join the intimate community that is Cala Azul, and get early access to all the featured amenities for low annual HOA fees – $700 for an empty lot and $1,400 for a lot with a house! Plan your construction now or in the future, using either the in-house architect/builder or the architect and construction company of your preference.
Contact us today for a private detailed tour of this extremely secure, incredibly immaculate, one of a kind, gated development!
Click here to find out more about individual lots for sale at Cala Azul, including Hilltop and Ocean Front.
---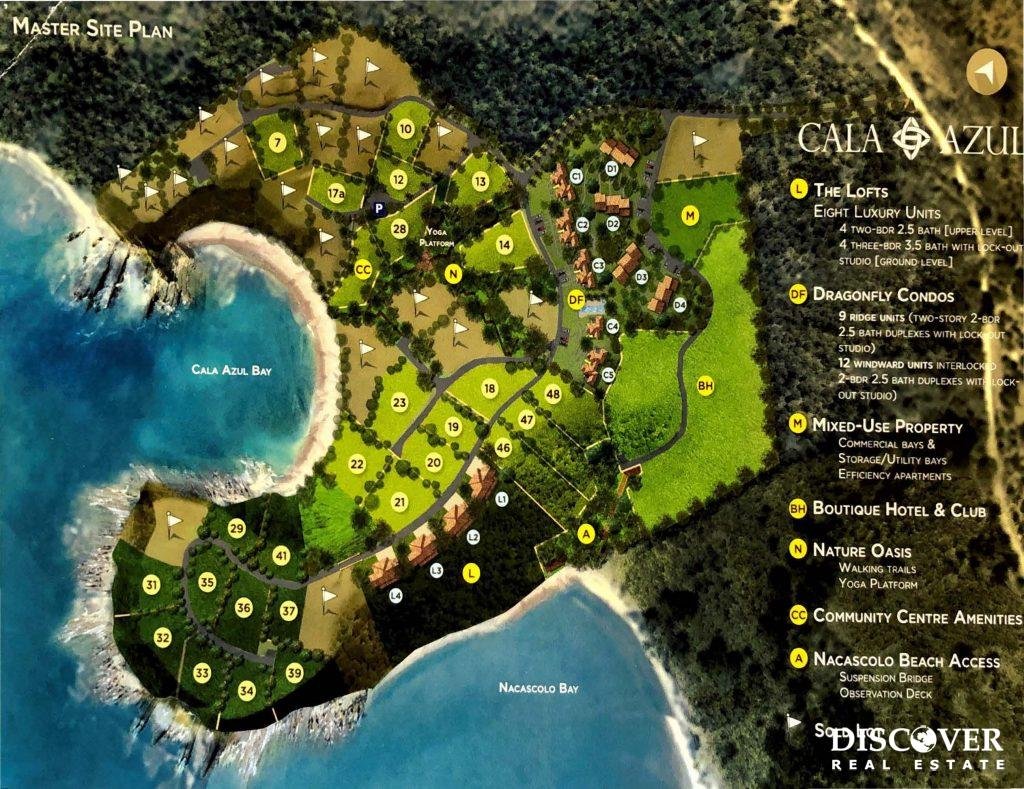 ---