For Sale
$999,950 $1,818 per sq. meter - Business, House
Las Palmas Colonial Style 6 bedroom house is very unique in San Juan del Sur.  Modeled after the historic colonial style homes in Granada, this house has a feel of being old but it was only constructed in 2001.  Located just across the street from the beach in San Juan del Sur the house is also in front of the new port area that continues to be expanded and improved with more and more amenities.  Every night you can sit on the patio and watch the kids skateboarding or roller blading in the park or walk half a block to the new jungle gym play area of kids with a padded surface for safety.  And the best burger in town can be purchased in the food court area of the port or you can dine at numerous restaurants with fantastic ocean views across the bay of San Juan del Sur, Nicaragua.
Video tour of Las Palmas Colonial Style:
The main house surrounds the pool and yard area in a U shape, you feel like you're in a secluded area, outside of town with all the privacy in the back yard.
The main floor hosts an extra large and well equipped kitchen, as well as many living and seating areas. At the front of the house, there are balconies on each level running the length of the house that look out over the beach and port area. All 6 air conditioned bedrooms have balconies that overlook the pool and yard and three of the bedrooms also have balconies overlooking he ocean. There are 5 bathrooms with hot water showers and sinks, to service the bedrooms, and 1 more full bathroom in the pool area for a total of 6 bathrooms.
Currently with two rooms containing bunk beds, the house sleeps 17 people easily and with the abundance of living areas throughout the house and yard, you'll never feel like your stuck in a large group!
The house also includes a one bed one bath caretaker's residence at the back of the property with laundry facilities too and a gated parking space large enough for 5 or 6 vehicles.  The large lot goes from street to street, you could easily build more rooms or apartments above the gated parking area in the back.
Contact us today to find out more details on Las Palmas Colonial Style House, the perfect place to spend a vacation with your family and friends or to make into your permanent residence or a popular Bed & Breakfast!
Features
Sub Properties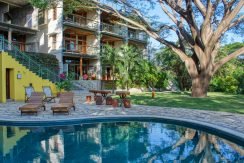 $109,000 - House
This studio apartment in La Talanguera Townhomes #101 is two blocks from the beach, under the shade of the Guanacaste…
More Details