For Rent
$1,200 Per month plus utilities - House
Casa Santa Rosa in the Residential Villas at Pelican Eyes has by far the largest open floor plan with a spacious  kitchen, dining, and living room area with two levels of expansive patios.  Enjoy the security of being within a gated resort with very easy access to parking, the upper restaurant, lap pool, and family pools at Pelican Eyes Hotel and Resort.
Recent upgrades include one new air conditioner for the master bedroom and there are two new air conditioners in the over-sized living area.  The house was also upgraded with a  "whole house" surge protector.
You can live in this home 365 days a year or rent it out for excellent rental income.  Included in the house are numerous lock-off closets for the owner to use and lock up personal possessions if you chose to place the home in the rental program.
The house also has a stack-able washer/dryer, and comes completely furnished including the linens and there are two huge bodegas under the first floor patio. The Home Owners Association fees are only $300 per month which gives you complete access to all the free amenities offered at Pelican Eyes including the 3 pools, numerous walkways, and butterfly reserve.  You can chose to cook your own meals or pay for them in one of the two restaurants,  or pamper yourself with a day at the in-house spa.
The HOA covers the 24/7 gated security and backup generator.  Also available is property management, property rentals, and maid service through Pelican Eyes Resort and Spa.
Pelican Eyes Resort & Spa is located on a hillside overlooking the bay in the charming fishing village of San Juan del Sur, on the stunning Pacific Coast of Nicaragua. Pelican Eyes offers a distinctive blend of gracious hospitality, local charm, unique architectural style and commitment to the community, all in a unique setting that blends harmoniously with the natural environment and local culture.
Features
Sub Properties

For Sale

$65,000 - Land

This property is a flat lot of two manzana (3.2 acres). This property is  located just 5 minutes by car…

More Details
Similar Properties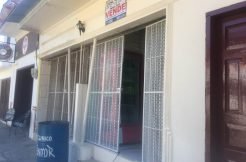 EXCLUSIVE LISTING IN THE CENTER OF TOWN! this a… More Details
$195,000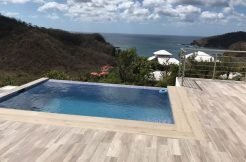 Casa Malibu is located in the  Residencial Malibu at Pacific Marlin… More Details
$450 Per Night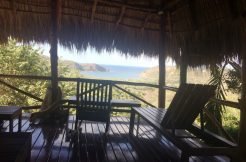 3 bedroom home remodeled and meticulously decorated and landscaped… More Details
$325,000 Reduced from $385,000