For Sale
$325,000 Reduced from $425,000 - House
Casa Bella Vista is a newly built modern home. It's magnificent location in Playa Remanso, with the best views on the hilltop that juts out toward the Pacific Ocean and Costa Rica, will simply take your breath away.
This spectacular modern glass front home is just 6 km (3 miles) south of San Juan del Sur and is in a private gated community. The open plan living space of Casa Bella Vista is extremely inviting, making the house perfect for entertaining. A spacious terrace houses a vanishing edge pool overlooking the well-known surf beach, Playa Remanso. This open and airy 3 bedroom, 3 bathroom home really is one-of-a-kind.
The property also includes caretaker rooms, an extra storage space, and a water cistern that stores over 1200 gallons of water, and is hidden just under the pool deck. Casa Bella Vista is being sold fully furnished, and includes air conditioning, a solar water heater, a backup electrical generator, 60-inch TV, and fast internet hookup. The living room, bedrooms, and pool deck boast incredible views of Playa Remanso and Playa Hermosa.
Total Lot Size: 750 m² (1,063 v²) (8,072.93 ft²)
House Interior: 210.58 m² (2266.67 ft²)
House including exterior area: 295.08 m² (3176.22 ft²)
Playa Remanso is a small beautiful bay. On clear days, you can see the mountains of Costa Rica which are less than 15 miles away. There are restaurants on the beach where you can enjoy cold beers and good food. Playa Remanso is a great beach for learning to surf and the best long boarding spot in the area. A little bit gentler than our other surf breaks but still a fun wave with a beautiful beach!
Features
Sub Properties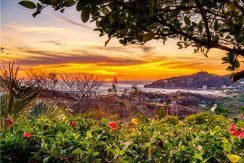 $95,000 Bargain - House
Feel relaxed and at home instantly at Studio Paz. This well-appointed luxury studio is located in the Residential area of…
More Details
Agent Tim Sullivan
Contact